(previously shared on my old family blog, but wanted to share it here as well...)

The plan was to live on Louise Street for five years. Five turned into eight very quickly, and last spring we seriously started the home search. We had a very specific type of home we were looking for, and as long as it was in West Michigan and under 25 miles to Greg's work, we went to look at it.

There was a long list of "wants", and a short list of "must-haves", but basically, after looking at new homes, we decided we wanted a classic mid-century modern (MCM) home with some fun intact details from previous decades.

Our "must-have" list included...

good school district
great room instead of separate living, dining & kitchen
outdoor living space
ranch
more than one bathroom
Because our "want" list was quite long, so we just considered those "bonuses" if the houses had them. This list included...
tons of windows
natural stone or brick used on façade and interior
fireplace
walk out basement
two+ stall garage
quiet neighborhood
main floor laundry
large yard
space to add a second garage
separate office space
and this list goes on and on...it's a dream list, I suppose!
We started the search April 2012, and we came across the first property we were really interested in. It was on the north side of Grand Rapids, in the Grand Rapids public school district (which we wanted to avoid...) and it was almost perfect. We LOVED the façade, although I loathed that white garage door. The windows were amazing, the first floor layout was perfect, and it was ON A LAKE! We loved the fireplace, and there were four bedrooms and two baths. There was main floor laundry, and did I mention it was ON A LAKE?!
We didn't love the kitchen (it had been redone and wasn't original), the yard wasn't huge, the bedrooms were tiny (and one was actually a den...) and the next door neighbor's home wasn't anything to write home about.
We put in an offer, but were outbid. It was the first one that got away! Here are some photos of it directly from the
GRAR website
.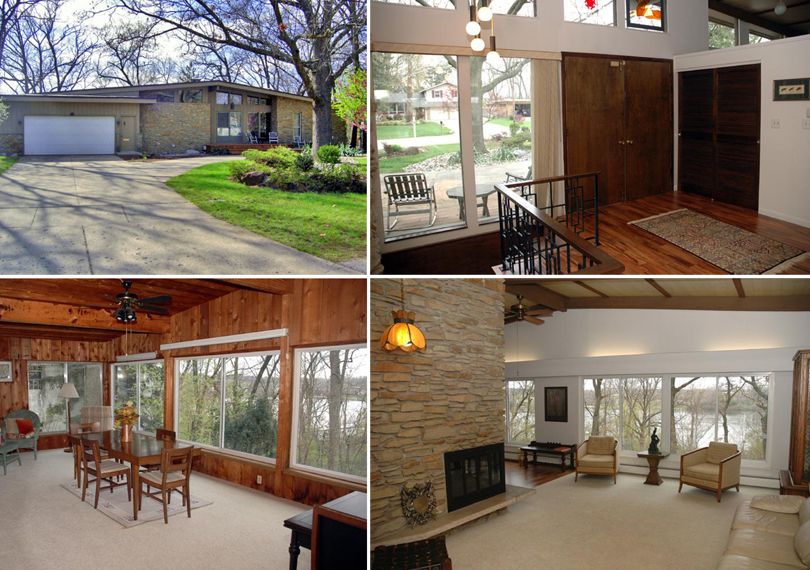 Mother's Days 2012, we did a drive by of the second house we offered on. This one too, was on a lake and it was another amazing property. We LOVED the front of this one more than the previous home, and the back of this one was simply spectacular.
Tons and tons of natural light poured in from all windows, and the exterior brick on this one was stunning. The interior was sad including an awful little kitchen, which I'd want to re-do right away, and too much living space, which I had no idea what I'd use for. It was a huge home on a beautiful lot and ON A LAKE! And the price? Well, the price was too much for us since there was a lot of work we would need to do.
We put in an offer, they were "
offended by it",
and refused to counter. So, we walked away and you know what? It finally sold almost a year after they put it up for sale, for only $5,000 more than our offer. This is probably the one we are most upset we didn't get! Here are some photos of it...
So after these two lake homes got away, we found one on the north side of Grand Rapids in a cute neighborhood. The lot was awesome - the whole back yard was shaded and had a great outdoor living space. We loved the layout and there were four bedrooms and four bathrooms! The kitchen layout was pretty perfect, and the dining room was one of my favorites we had seen.
We put and offer in and were outbid. Again. Wah, wah.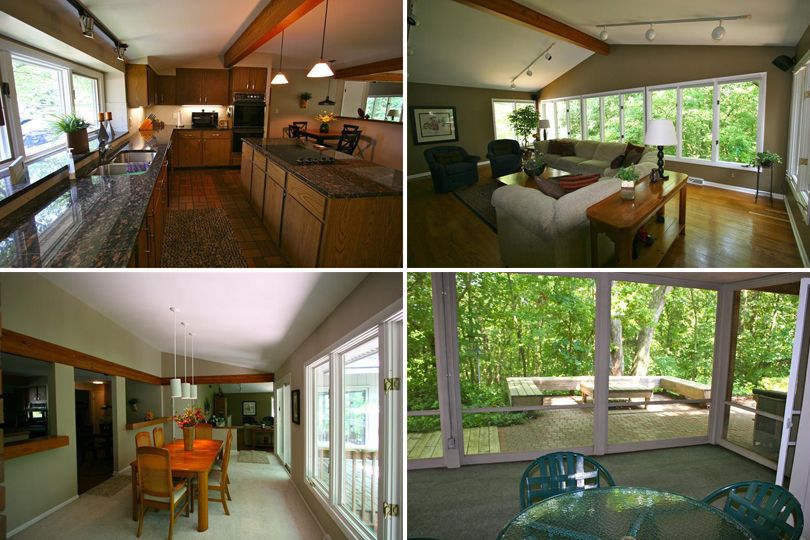 And here's the final house we looked at before finding "
the one
". It's in Spring Lake and was pretty amazing. It's located on a private drive with other MCM's. We loved the neighborhood. We loved the lot and the yard. We loved the outside.
But the inside? Well, it was SO huge, we had no idea how we would pay the gas bill! Seriously, three living areas on the first floor? Awesome, but not what we were looking for. At all. Moving right along - here is the only photo I have. The gorgeous outside...with amazing yard!
And the one we landed on? Well, we think it's pretty darn perfect, especially after spending the last almost-nine-months making it our own.
Our new house is small in comparison to many of these, but it had almost everything we were looking for. We landed in a great school district, we have a half acre lot, we will have one big living space when the renovations are done, and there is a two-stall attached garage.
Just for fun, I wanted to share the photos from the original listing...