Welcome to the basement. When we bought the home, it wasn't much of a spot you'd want to hang out. Clad in soft-but-bright yellow paint, the cinder block basement was anything but cozy.

Because the upstairs is a modest 1600 sq. ft., we had plans to finish the basement when doing the initial renovation, so we'd have another living area, and a place to hang out other than the more formal living area upstairs.

We started with this...
While I LOVED the wood on the walls and ceiling, plus possibly one of the only original light fixtures in the entire home, the walls surrounding the stairway made it feel like you were headed to a dungeon.

There is absolutely no daylight coming into the basement, so taking down the walls and opening them up to the upstairs, makes it flow better.

At the bottom of the stairs, there is a little nook, and then you head into the rest of the area...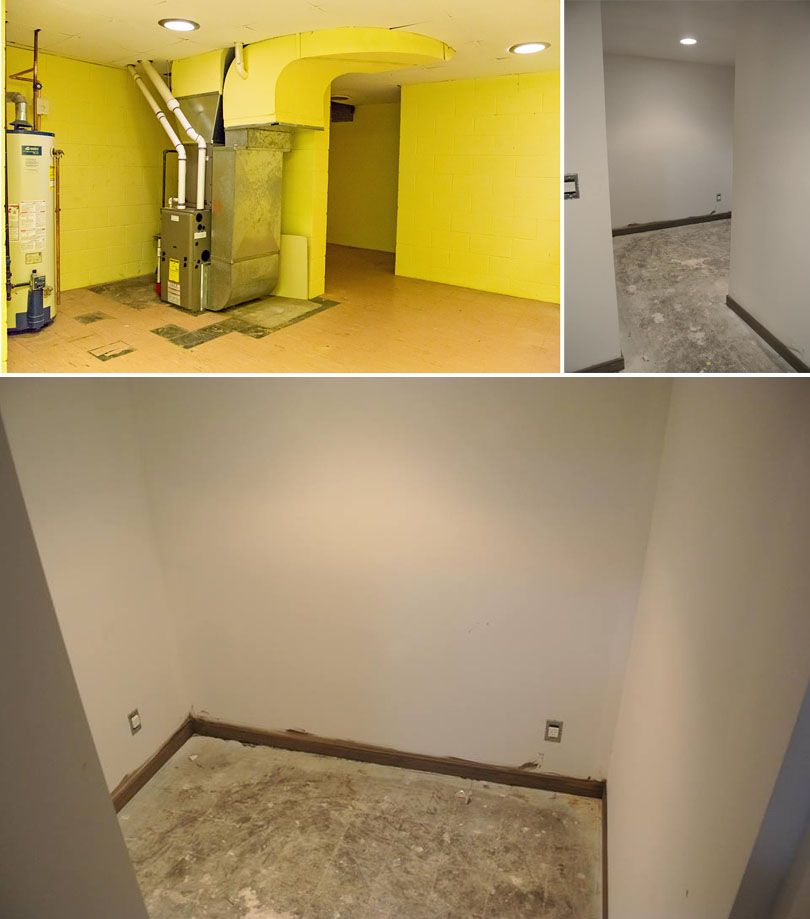 Here's a look at the nook - the top left photo shows the mechanical area on the left of the image, and the nook beyond that. The image on the top right shows looking into the nook now, and the bottom image shows the nook from the bottom of the stairs.

It's large enough to hold a little white buffet we picked up months ago. I plan to store our board games inside, and display family mementos and photos here. There is also plans for one giant photo going on the wall right over it. Since there is a lack of wall space upstairs, I've decided the downstairs will be the place where we can display family items easily.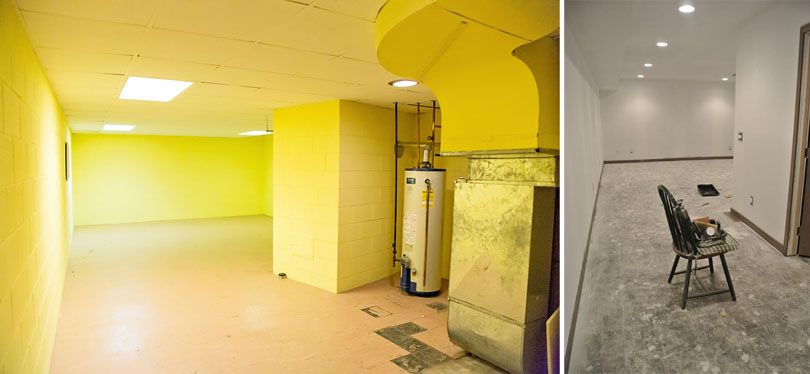 This is looking the other way, past the mechanical area (which is now an enclosed room), and into the living area of the basement. We plan to put all of our current living room furniture down here - our sofa, chair & ottoman, our media center, and our television.

There are also grand plans to have this be toy-central. We would have loved to build in shelves & closets down here for toys, etc., but the budget didn't allow us to do that this time around. Also, I had no idea how furniture was going to be placed, so didn't want to commit to that before we've actually used the space. In time, we may find ourselves adding to this area. For now, it will be a nice, open playroom!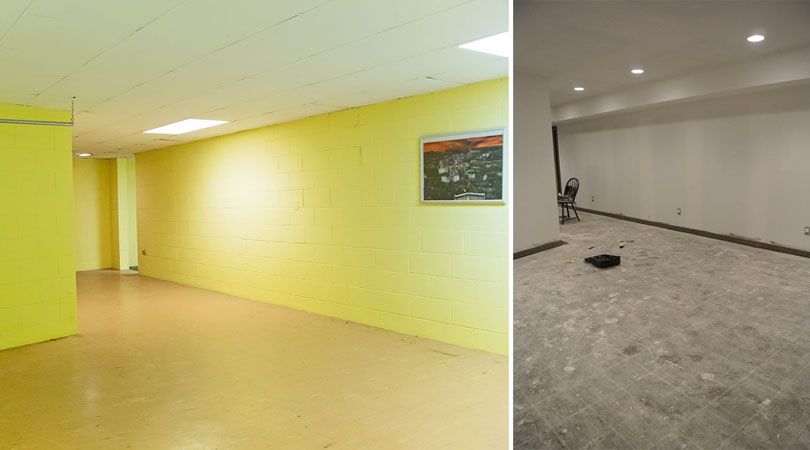 And here's looking back toward the stairs. It's quite a long room, and we're very happy with the drywall and lighting. Our painter has already stained the woodwork, and I'm very happy with everything so far!