Last year, when we started the exhaustive local search for our own MCM home, I started searching online for any resources I could surround myself with. Because we ended up with a project house, instead of an immaculate time capsule, I needed to decide every single detail of the house - from lighting and flooring, to countertops & closet door styles. Our builder had never done this sort of renovation, so it was really up to me, which I actually loved.

In my search, the obvious ones like Retro Renovation popped up, but then one caught my eye, that I still pop into today. Mid Century Home Style (they do not hyphen mid-century in their title) is set up like a magazine. I'm not sure if many people read this, as it's more online magazine, instead of blog, so there is not any user interaction (comments), but it's a great, fun resource if you enjoy looking at retro literature. If you haven't come across this in your search, go now.

Right now, it looks like it's currently displaying their
Autumn 2013 V., No. 4. issue
It's a pretty detailed website - so take some time to dig in!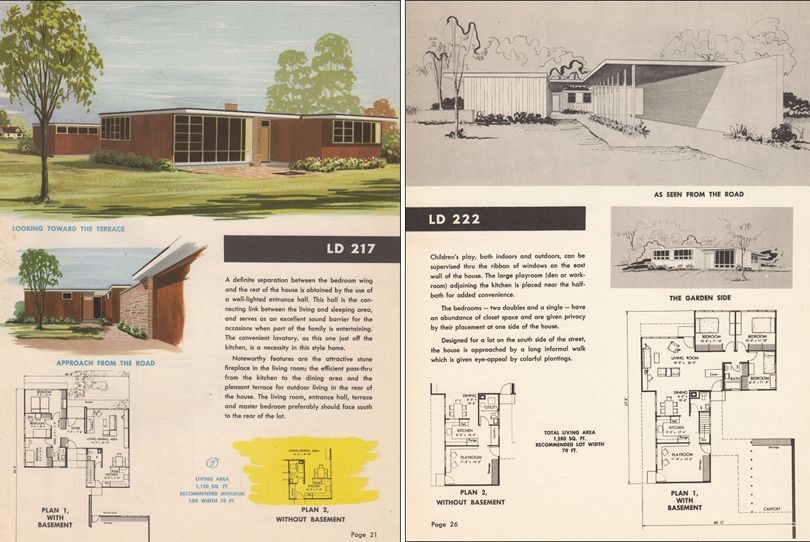 My favorite part of it are the home plans, naturally. I especially like the plans from 1951 including
LD-217
&
LD-222
(
images above
). And
LD-205
is pretty awesome too.
But if the home plans aren't your thing, check out the
1950's bathrooms
. We were all "lame and neutral" in our bathrooms, since I grew up with a rose toilet/sink/tub in my parent's house, and my mom still complains she should have gone neutral, but LOOK AT ALL those awesome color combinations! They are sort of AH-mazing! I'm quite certain I love the rose & coral one the best - bottom right hand image. Maybe I should talk my mom into coral walls....hmmmmmmm,
The
1960's living rooms
are quite awesome too. And the
gallery of 1950's kitchens
. The
entire website is based on 1940's-50's-60's style
focusing on advertisements and literature - don't miss
this resource
!