Greg and I had both been searching our local Craig's Lists for a retro bar cart, but nothing showed up that we loved or could afford. So, when Target released this one for $129.99 in brass and wood, really, nothing else compared. While I kept looking at it in-store, I resisted buying before the holidays. And what do you know....it went on clearance at our local store for $91 the day after Christmas and I snatched it up as quickly as possible.

The dining room is not a formal room, as there are only two walls, but it's slim enough to push into place and looks just perfect! We have entertained a lot over the holidays, so our liquor selection is dwindling, but I think this little cart will be part of our home decor for a long time!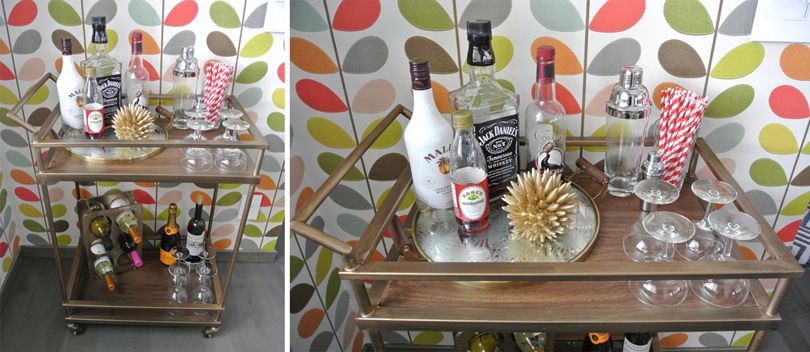 It took me a couple of tries to figure out how to display everything. I ended up getting the little mirrored tray on clearance from Target as well. It was originally $35, and I paid $11 yesterday. There is a scratch on it, but I put a bottle over it. Problem solved.



Because I'm a fan of cocktails, I wanted the liquor up top so it's easy to mix/shake/pour. I haul out the fresh juice, pour everything in the cocktail shaker, and then into the cocktail coupes (estate sale find!). Add a fresh berry garnish, and you're set. The mirrored tray is quite adorable (and affordable!) and I love this addition to the cart. The urchin is a little decor, which moves when we're actually entertaining. Fresh flowers would look great too - I just rarely have them on hand!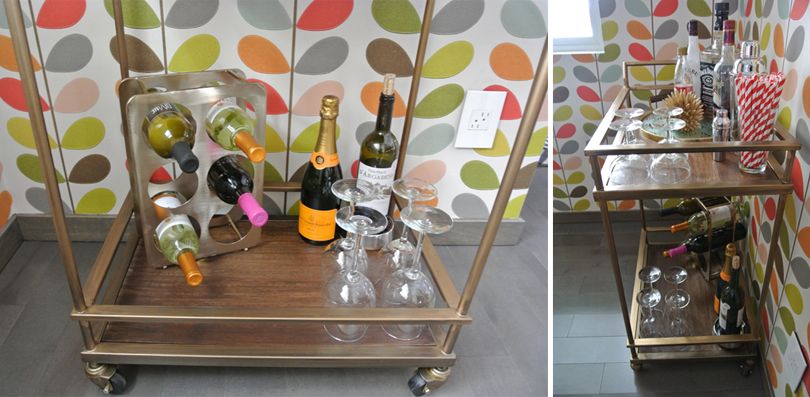 I picked up the brass wine rack weeks ago for $8 on Target clearance. I didn't know if/when we'd use it, but it's perfect on the cart. I put our wine that is usually on hand (in the cupboard) in it, along with a few wine glasses. We've been holding on to the champagne for a year or so...we need to drink that soon!

So, that's it. What a great little addition to our dining area!