When we bought the house, the basement was a true basement - a place to store things. Yellow cinder block lined the walls, and besides the furnace & hot water heater, there wasn't anything down there.

Last winter, when we were working on taking down the walls so we could insulate the house and start fresh with new drywall, we decided to open the basement stairs instead of keeping them original. Now, when you stand at the top of the stairs, you don't have to open a door to go down them!

At the bottom of the stairs, it's pretty wide spot, so we popped this refinished buffet here - it's filled with board games and I love the unique lines of it. I haven't hung the family photo yet, but eventually it will go on the wall and I'll add some more decor items on top of the chest.

This house is so much larger than our old house, and I haven't collected new pieces to display in every nook & cranny yet!




We got super lucky that we have exceptionally high ceilings down here! For some reason, everything mechanical was tucked away neatly behind the (really ugly...) drop ceiling, which we took down to drywall. We did have new heating ducts to work around, and as you can see the vents aren't even on in these photos yet - just open holes in the ceiling at this point! That is certainly on our to-do list.



All of the furniture down here is from our previous home. The yellow sofa & chair/ottoman, plus graphic lamp were in the living room, the other chair/ottoman were in our bedroom, and the side chair was Eames' nursery rocker. Ooh, and that side table was our kitchen table - no joke - we ate dinner around it every night.

Mostly, this room is about toys and playing. It's super cozy down here (and the only place we have carpet...) so on the cold nights we've had lately, we head down here to play. The television is not hooked up yet (yes, it's almost been five months!) but will eventually be the spot we watch movies.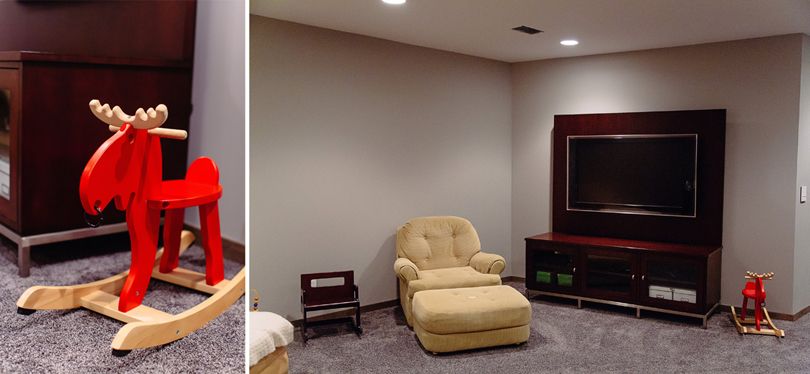 We had this large entertainment stand in our old living room, and we still really like how clean & simple the lines are, so kept it when we moved. We planned to use it down here and it works well in this spot.

The old chair & ottoman was my parents' when they built their house in '81, and this thing is SO comfy, I cannot get rid of it. Yes, yes, I know it's tragically ugly, but once I find the right fabric (and some extra cash...), I will send it to be reupholstered. It's a great reading chair - actually, I wanted to put it in Eames' bedroom, but sadly, it wouldn't fit.



My mom made this little throw pillow for me years ago, and I still love it. This is the most comfortable chair in the house!

Our basement, at this point, is more about function for our almost-three year old. We are happy to have the extra living space, and while it may not "go" with the rest of the house, it's certainly a great little spot to relax.

You may notice there are no windows down here - our home was built on the ground - there are no stairs to get in the front door - so, no windows down there either! Honestly, I think that is part of the reason why it's so warm & cozy down there!


Basement Resource List