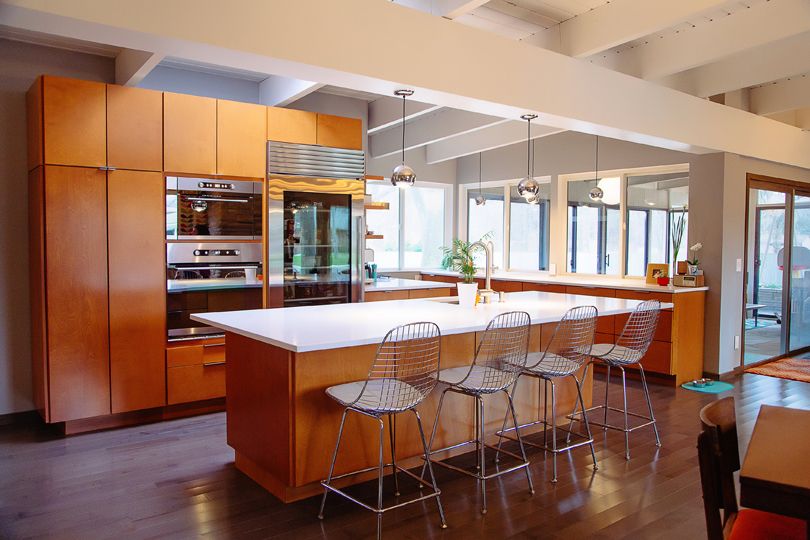 When you open our front door, you're greeted right into the kitchen - it's is literally the heart of our home! Originally, this was an office area, and a small galley kitchen adjacent to it. We opened the wall they shared on one of their first days of demo, and wrapped the kitchen around to create a ton of space to prepare food and entertain family & friends. We've loved it so far and it works for our daily life, and our entertaining life too!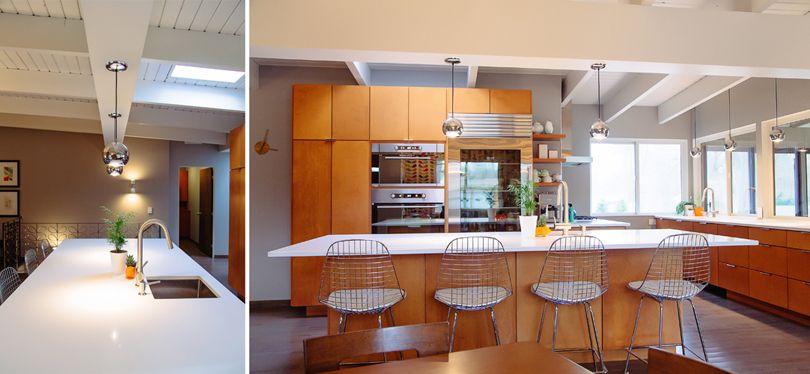 The island is awesomely huge - I think it's almost 9' long. It is where everyone gathers to chat and I am so glad we added a second, smaller, sink in the island. We end up using it a ton and I almost wish we would have put a slightly larger sink in here. The counter-height stools are from Modernica and when I found them, I knew they'd be perfect.

The island stores all of our bake ware, our freezer drawers, the knife block, and a garbage/recycling center. On the seating side, there are shallow cupboards that hold all of our "extra" glassware like wine glasses, punch cups, extra coffee cups and all of my flower vases I use once in a while.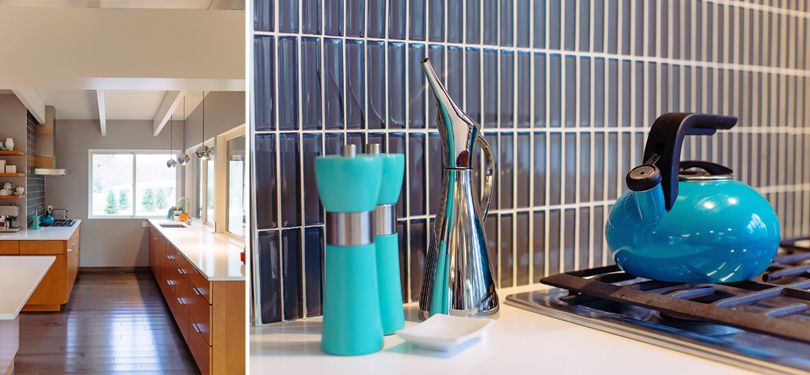 This galley portion is the footprint of the original kitchen. The fridge was where the island is, there was a range next to it where the walkway is, and then then traditional cupboards wrapped around. You can see our second, larger sink back by the windows, and the dishwasher is to the right of the sink. Our cook top is also here, with a simple hood. We LOVE the glass tile we did behind it - while it's a dark gray in color, the glass really reflects the light and makes this formerly dark corner really light.


While we don't have any upper cabinets, I did want some open shelving by the fridge. We literally use this spot everyday, so it's perfect. The uppermost shelf I cannot reach, so I store a couple of cute items up there.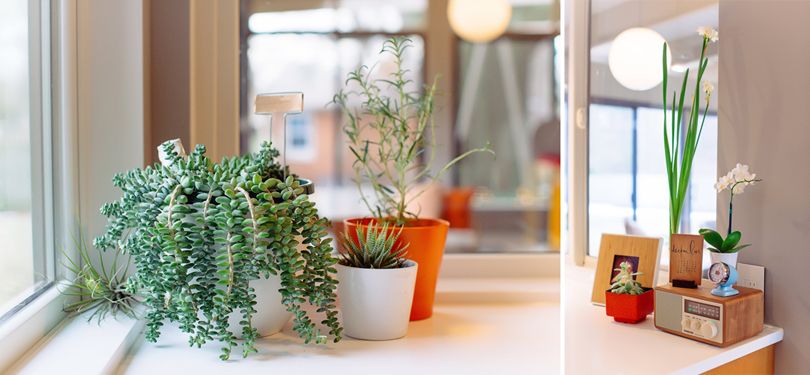 This is the corner, right by the sink. It looks out onto the three season room and the backyard and is where we do most of our hand wash dishes. We LOVE plants, so it's also where we keep our sun-loving plants, since this side of the house faces the east and gets a ton of sun.

The radio corner is the opposite end of this wall, and while we don't watch TV much during the day, Eames & I do have the radio on. He can pull his little chair here to turn it up when his favorite dance songs come on so he can bust a move. It's hilarious!

While we have most small kitchen appliances away - mixer, blender, knife block, etc. - I do like having plants and photos in this part of my kitchen. I'm in here most days, so little personal touches make it a favorite space of ours.


Kitchen Resource List