A master bathroom seems like a luxury to us, as we've been sharing an itty-bitty bathroom for years, and we cannot wait to have our own. And while it won't be large by any means, it will be kid/guest-free! The bathroom will be connected to our bedroom, and there will also be a walk-in closet when you walk in. You can see the layout here, if you've forgotten.

So, here's the inspiration I am working from...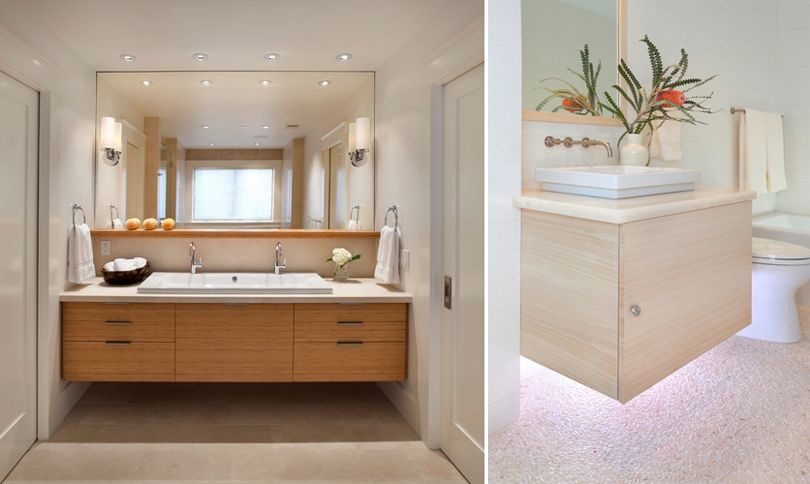 We have decided to have our builder make a floating vanity in the space because I want it narrow (18" only, to leave room for walking between the toilet and the shower. With a 66" wide room, the smaller the better. The above left image is what we're going for - although darker wood, and smaller pulls. We are also doing double sinks instead of just one long one, and the faucets are wall mounted (like the photo on the right).

And while we're talking about that photo on the right, I am really enjoying the undercounter lighting, sort of light a night light for all those early morning wake-up calls!

Now, on to the details...
Because our bedroom will be navy blue, I'd really like to brighten it up in there with a pretty light aqua color. The floors are a dark gray tile, with a white subway surround with gray grout. The dark gray tile will also be the shower floor, which will be built into the alcove at the back of the room. Again, check out the layout if you forget what I'm talking about! We haven't picked out showers heads yet, but they will be simple in style and chrome in color since the sink faucets & lights are chrome. We plan on having a sliding glass door for the shower, and today I thought it should certainly be frosted for a wee bit of privacy.

The toilet is picked out, as are the sinks and accessories (mirrors, lights, faucets, tissue holder, and towel hooks). And actually, some of these we currently have in our bathroom now, and because I loved them so much, I'll be getting them for the new house too.

I'm a HUGE fan of white sheets & fluffy white towels, but I plan on mixing in some orange graphic hand towels into the mix. And maybe I'll go wild with a fun rug in front of the sinks as well. We are trying to be minimalists when it comes to decorative items, so keeping everything clean & simple is the goal here. I'm even requesting an electrical outlet be put in our vanity, so I can keep my Sonic toothbrush out of sight.

The kid/guest bath is very similar - we will actually have all the same finishes.... Same tile floor, slightly different shower surround, instead of a walk-in shower, we're doing a large white alcove tub, same toilet/faucets/sinks/mirrors/etc. I do need to come up with a jazzy wall color for that room!