The kitchen seems to always be the place where friends & family congregate, so in our remodel, the kitchen is our biggest focus. And with our kitchen literally being in the middle of our house, it's safe to say that we will be in here most of the time.

Greg enjoys cooking, and I plan to try to enjoy it more in our new home. He plans on using this kitchen more than any other room in the house and I am so excited with the final layout! To remind you, here's a 3-D version of the house, including the kitchen...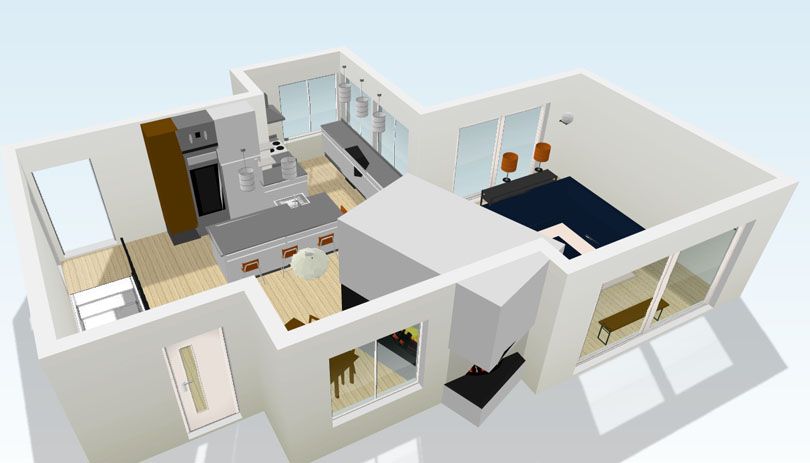 We took out the strange little built-in office area in the house to accommodate a larger kitchen, with an island that includes counter seating. We also have a dining room, but because of the lack of walls in our house (which we love!) it's more of an eating area adjacent to the kitchen.


The first thing you will see when you enter the front door is the island. We are doing wood cabinets (in a medium brown stain) with no reveal (no gap between the doors) and small finger pulls (the type of pull, in the middle photo.) The island will house a smaller, second sink, plus an undercounter freezer. It will have four counter-height stools facing the rest of the kitchen, which is where we anticipate eating at often. There will be pendant lighting hanging over the island, which we haven't finalized yet, and lots of counter space to eat, enjoy morning coffee, do homework, sort mail/pay bills, play games at, have a glass of wine at, etc.

The island will also store our small compost bin (because we plan on prepping food - fruits/veggies here), and extra storage for rarely used items. It is directly across from the wall that holds the fridge (which is a fridge-only, with no freezer, which we found on Craig's List, similar to the fridge in the image on the left), the wall oven and microwave combo (which we found on Craig's List as well!), and our pantry, plus a tiny broom closet. There will be a few 18" shelves, which will be open storage, since we have no upper cabinets except these!

The kitchen wraps around into a little nook, which will hold a 30" gas cooktop, and a stainless hood. We are doing white quartz countertops, so I'm thinking of doing gray subway tile behind the cooktop, but haven't decided completely. The other portion of the kitchen will have the bigger of the two sinks, the dishwasher, and most of our kitchen storage in the form of drawers. This is also where our trash and recycling bins will go.




A few of the details include: undermounted, stainless sinks (both from IKEA and two different sizes), sleek stainless faucets (ours is above, left), drawer storage for everything including dishes, flatware and glassware, although I'm not exactly sure how wine glasses will work in a drawer yet. There will be a couple of lower cupboards, since we have one spot we cannot avoid them, but for the most part everything will be in a drawer, which I LOVE! We have cupboards now and I can't reach most of the space, so it goes unused.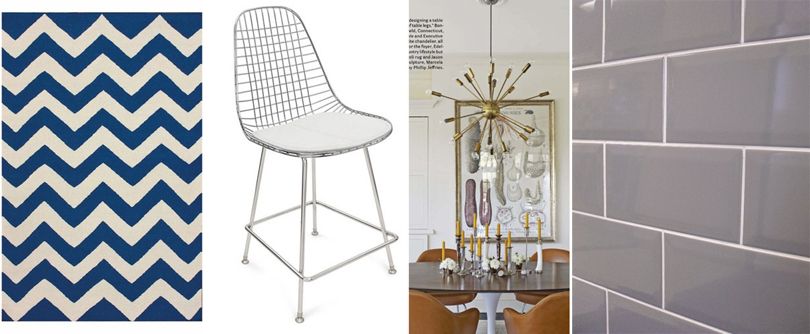 And here are a few of the design details. I love the idea of working in a fun rug into the dining room, although let's face it - it's a terrible place for an expensive wool rug. I am on the lookout for an affordable, easy-to-clean option! We are still searching for counter stools for the island, and I keep coming back to these wire options with a white leather seat. I love that they are not solid and don't take up as much visual space as some others I like. And the third photo is the MCM Sputnik chandelier I've had my eye on for at least six months. The final photo is of the gray subway tile I am sort of leaning towards for behind the cooktop.

I know there will be pops of color in this space, but we plan on using many of the kitchen things we already have including yellow, red, turquoise, orange, and lots of white. We are going for a less-is-more approach, and intend on keeping our "stuff" (i.e. toaster, coffee maker, stand mixer...) hidden and out of sight. All that visual clutter drives me nuts.

So, what are we forgetting?!