Greg and I have been mildly obsessed with finding just the right piece for each room of the house. We actually started collecting furniture long before we found this house, so now we're making sure each piece actually fits where we want it to!

Here are some of the items we have so far, and my comments below each photo.


The ever-important dining room table & chairs. We have lived in our current home for almost 8 years, and have a tiny eat-in kitchen. I'm talking TINY. The size of our current dining table is 30" round and seats the three of us perfectly. It also means no one can stay for dinner unless they eat on their laps in the living room. I'm going to miss our
Louise Street house
, but I am already planning dinner parties in my head with family & friends.
We purchased the table (with two leaves) and chairs (five total - we have one with arms, which is not pictured, but sadly, there were not two) at an estate sale for $300. At the time, we thought $300 for a lot, but since then, we realize we can't find a solid wood table for $300.
I need to recover the padded seats - the fabric is quite worn - but am still searching for just the right pattern & color to spice up our little dining room.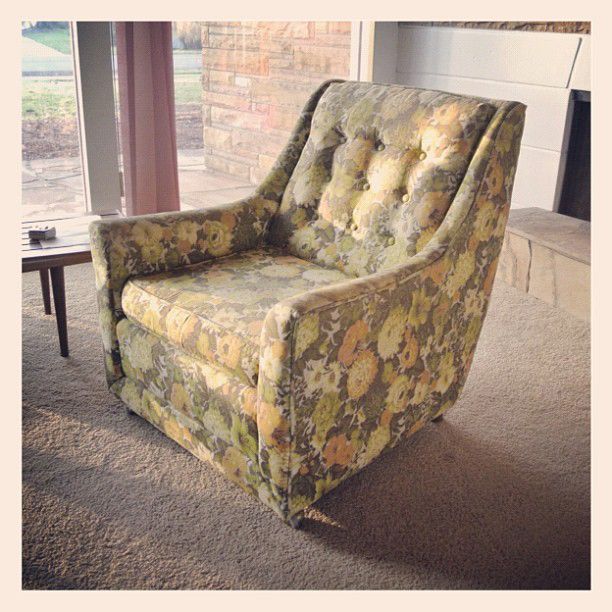 Here's a lovely side chair we picked up on Craig's List for $100. We LOVE this chair - the buttons, the swoop of the arm, the little wooden feet in the back (the front feet roll). Originally, we planned to couple this with our new sectional sofa, but we aren't sure if that is the right place, as the living room feels pretty full without another chair.
And even though the fabric looks pretty rad, I do have plans to have this reupholstered, as there is some wear-n-tear, and sadly, it doesn't match the look I'm going for. Also, the foam in the seat is worn, making this not the most comfy of chairs, so we would replace that when we have it reupholstered. Right now, I haven't been in LOVE with any fabric, so the search continues!
This may be my favorite little purchase so far. It is from a friend of a friend, who has become an online friend of mine. Follow me? Kimi posted this on her Facebook page months ago with the caption "Come to our yard sale!" or something similar. This little Mersman table was in the random shot of their sale, and it had my name on it. I immediately emailed to see if she'd hold it for me. $20 and it was mine. SOLD! It's currently hanging out in our uber-traditional living room, but I liked it so much, I didn't want to store it in the basement until we moved.
Also, you may notice my Christmas present from Greg. That guy - he's SO great! He surprised me with an Eames House Bird. I had casually mentioned it'd be fun to get an Eames House Bird for our new house, so when it arrived on Christmas Day, I was excited. Again, didn't want to store this one until we moved, so it's hanging out in our currently living room.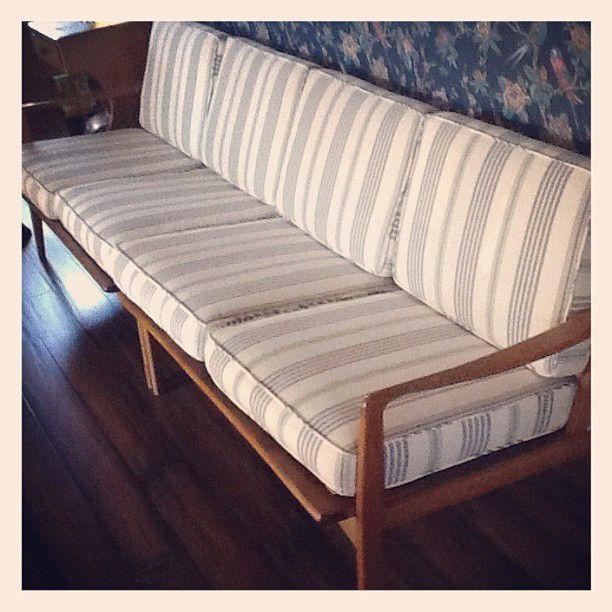 Moving on to the three-season porch, we scored a set of teak patio furniture at a killer price! Above is the sofa, which is two separate parts, so I can set in a corner, making it a bit more of a conversation spot. The set also came with two single chairs, and one ottoman. The woman selling was in the process of getting divorced and needed to unload this set, so we totally scored a deal!
I was looking for new furniture for our patio, and sofas were priced at $1200! AH! There is no way we wanted to spend that, so we were VERY thankful when my friend, Julie, set this Craig's List posting our way.
And the final find I will share with you today are a pair of Russell Woodard patio chairs. We plan to use them at each end of our outdoor dining table (which we don't own yet - still scouring Craig's List for one!) We found these one day while cleaning up our yard. We swung into an antique shop in Grand Haven, and I spotted just one of them within 2 seconds of walking thru the door. After chatting with the lady working, she told us the seller had another one and we bought the pair. This wasn't a cheap find - but we are SO excited to have found them in the first place.
We have a few more secondhand purchases that are sitting at the house, but I haven't any photos of yet. We also don't have a "home" for a few of them, so I'll keep you posted on what else we have found.
We've been making great progress on lots of things at the house - mostly NON-secondhand, including kitchen & bathroom sinks, the toilets, faucets for everywhere, mirrors, appliances and furniture. We also have selected our builder, and are excited for him to begin the coming weeks. Lots of great things going on - I'll update as soon as I can!