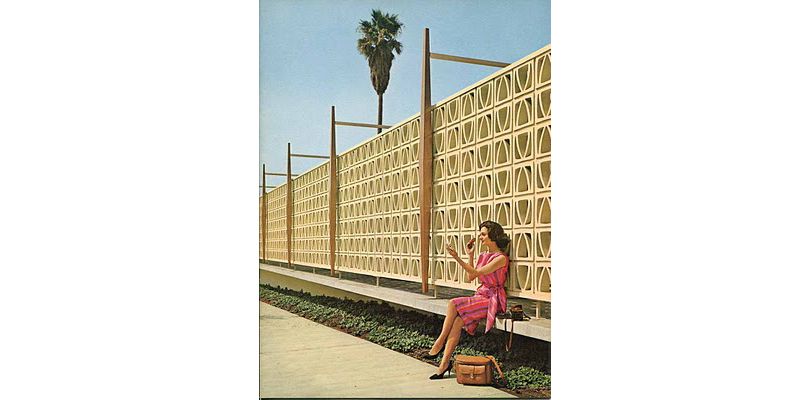 Breeze block concrete walls have always caught my eye, and in Michigan, there are certainly plenty of great examples to admire. I love these concrete blocks SO much, it was a no-brainer to make them a part of my True Home Restorations identity.

Back in March, I blogged about wanting these, and today I'm excited to share this post!

Ever since buying our home in 2012, I've been on the lookout for of our own blocks to add to the house. Retro Renovation wrote a story about mid-century breeze blocks in 2010, and at the time of the story, there was a place near me that carried them. I called to purchase them, but they had literally just pulverized their remaining inventory, as it had been sitting there, untouched & taking up space, for years. I may have cried a little.

There are a few companies, mainly in Florida I believe, that still produce these. And maybe as mid-century modernism continues to gain speed in the marketplace, new companies will pop up. I recently read about a man making his own - sounds about right to me. If you can't find it - make it; we did that with our stair railing, so I know how that story goes all too well.

Anyway, here's where my own story turns AWESOME.

I'm cruising the interwebs last spring, and on the Mid-Century Modern Design Facebook page, where there are over 23,000 members, someone posted about having a bunch for sale in Michigan. Of course, I jumped at the chance to own my very own breeze blocks - I didn't even care what pattern they were.


The owner emailed me this photo, and we tried to set up a time to pick them up. She lived out of state, and was working on the house as an investment property. We started talking in May, and the stars never aligned for us to get to St. Joe to pick them up.

Last Friday - almost six months later - she sent me a message that we could come, and Sunday morning we headed her way. The blocks are 12" wide by 12" tall, and 8" deep - and they weigh a TON. We loaded 85 of them into Greg's giant Ford F-250, and need to get down there again before it snows to pick up the rest of them.


When we got home, we unloaded them back by our fence, since they are obviously not ready to be installed. We have a LOT of work to do before they get mortared together in their new home. They all need the old mortar chiseled away, and there looks to be one coat of paint on them, which I am hoping the power washer takes care of easily. I'm totally crossing my fingers on this part.

We have two areas to use them - one behind our master bedroom, where the floor-to-ceiling windows look out into our backyard, and then into the neighbor's yard. And the second spot will be behind the garage, where currently there is a wooden screen wall, which will eventually need to be replaced.

I sketched up the two patterns I could think of with this design. Because the smaller wall will be either only 4' or 6' wide, I like the design where the circles are very symmetrical. And because the wall behind our bedroom will be at least 10' wide, I like changing it up a bit. If you look very closely, you can sort of tell in the photo above we tried both patterns in their temporary spot.


Here is an example of the block on a large wall with the symmetrical pattern. I cannot find a photo of the other pattern idea, but because a couple of the blocks were still stuck together, I believe the other pattern is how they were originally laid out.

This will be an ongoing project - hoping to get to work on the blocks in the springtime!