In June, Kristen of K. Holly Studios stopped by to snap some updated exterior images of MidModMich for a very special project (coming in 2015!) When she was here in December, the outside was not very pretty, so we skipped it until the grass came in. So thankful we did - these look great; thanks KRISTEN!


You may not remember how different the outside of the house looked, but I'll give you a before shot to remind you where we started. Many more views on our "before tour" tour post...



This is the day after we closed on the house, and our friend, Kristen of K. Holly Studios, came out to snap our official "before tour" images. What you don't see under the leaves are the large beds filled with oodles of bark, random plants, and hardly any grass (pretty sure the copious amounts of leaves had something to do with this...)

I actually loved the exterior way back then, so imagine how much I love it now when it looks like this....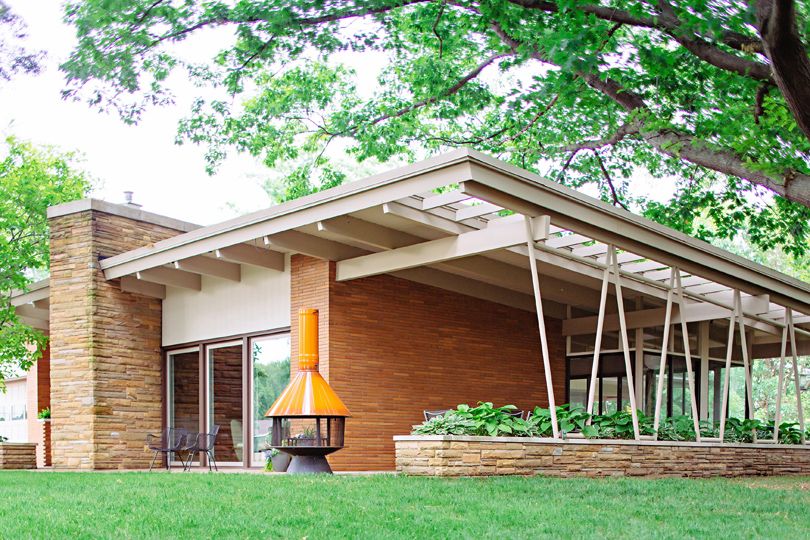 This was our exterior in June - the grass is actually a lot more filled in at this point, and the hostas are even larger (we relocated all the hostas from the beds in the yard)! While we love plants, we were aiming for a very easy-to-maintain yard that we could play in.

And play we do - baseball, kickball, catch. Eames rides his bike through the lawn, and I love, love, love the "no transition" we have. The grass is level with the patio, which is level with the house. No stairs for us!




The front door is probably my favorite new exterior element. The house had a standard, 15-lite door when we bought the place, and we decided on a Crestview Door (and thankfully placed our order before the pricing skyrocketed!) early on.

Actually, one of my very first blog posts on MidModMich was asking for opinions on our front door. We decided on the Allandale version and love it SO very much.

The house numbers are the Neutra House Numbers, and the light is from Lowes, if I remember correctly.

The white planters are from Target a few years ago (we had them at our former house on the front porch too), and then graphic door mat is from IKEA.

All the plants are from our local Countryside Greenhouse, and I had SO much fun filling planters this year!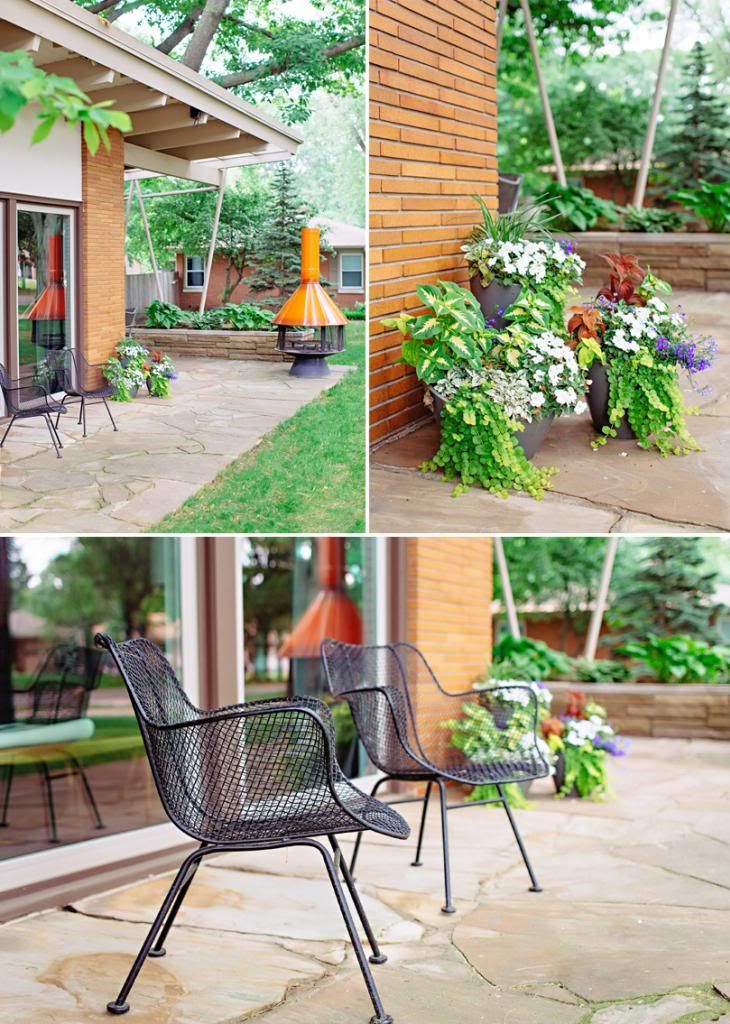 In front of the living room windows, which are over 12' across, are a pair of Russell Woodard chairs we bought very early on in our vintage furniture search. They are perfect out front, and I actually sit in them quite often as Eames plays in the front yard.

Another set of planters hang out up here - since we just have grass in the yard, bringing in color & texture in planters was the perfect (easy-to-maintain) solution.

That orange MALM fireplace was a Craig's List find - we totally scored on this, as it was spray painted black when we picked it up, and I'm pretty sure they had no idea what they were selling. We brought it home, and I quickly stripped it with some paint thinner. Orange MALM perfection!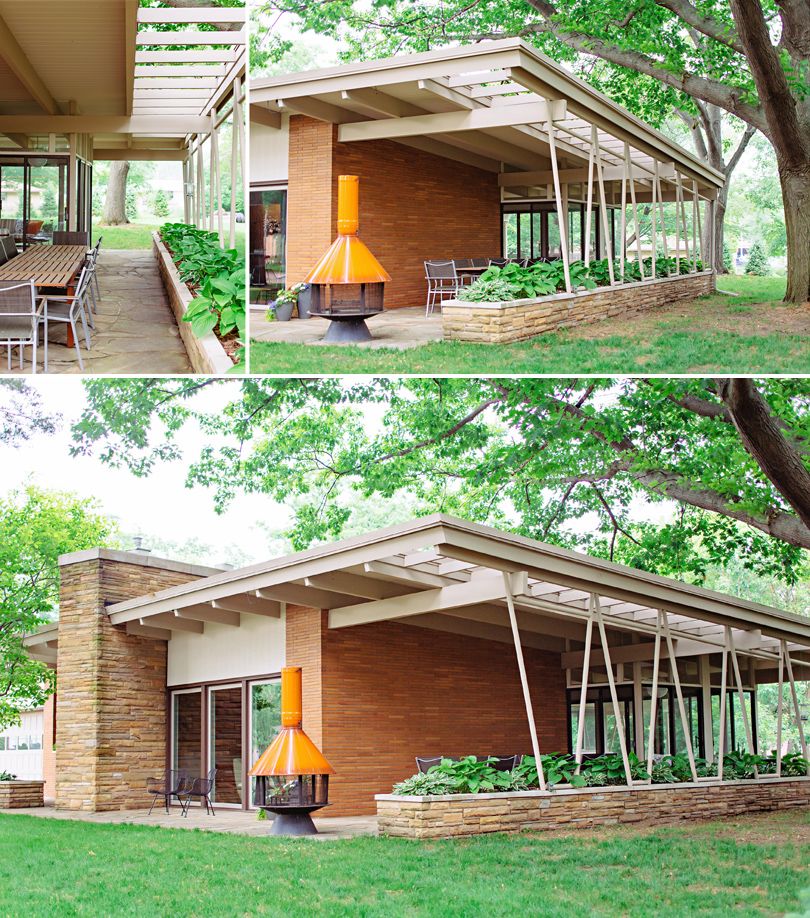 I've talked about this dining patio before, and I'm so happy to report we use this portion of the exterior more than I thought we would. We actually had friends over for dinner last night, and the seven of us ate here. And since it's outside, it's super easy to clean up. Bonus.




The back of the house is rarely seen by anyone other than us, but we use it a ton. Our grass needs a bit more TLC back here, but it's certainly filling it. It's a far cry from where we started, but with the huge trees, and also being the spot where the dog goes out, this portion still needs some attention.

Greg grills dinner out here just about every night in the summer, and it's so easy to access from the three season porch.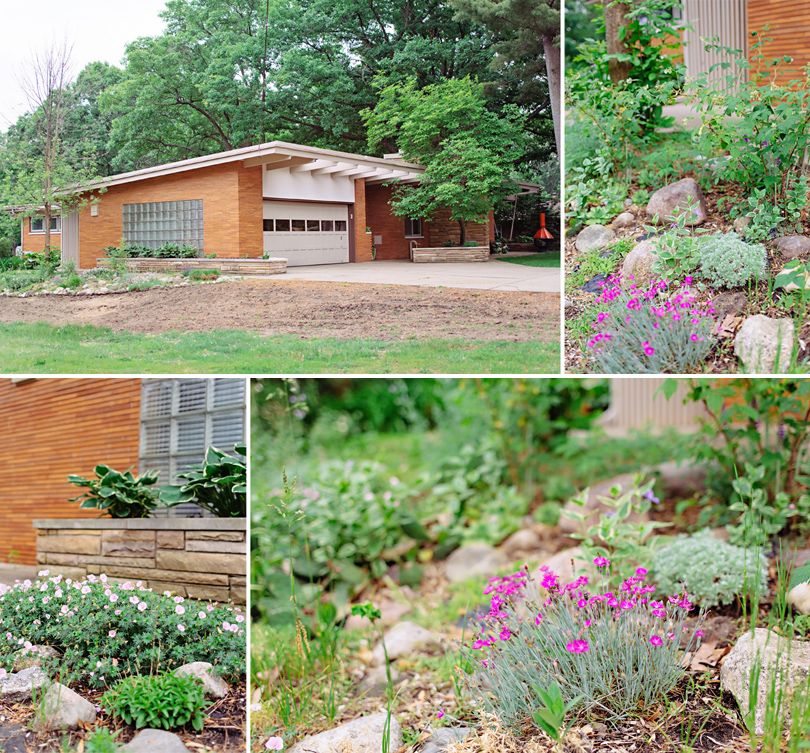 We are still working on the grass on the north side of the house. We hauled some big pine trees in late last fall (after grass seed was down), and neglected this side. It's on the to-do list for sure this fall, but I'm not promising any sort of miracle. HA!

The former owners created a bit of a rock garden/retaining wall, filled with perennials on this side of the house. It's the only spot that is "full sun", so we have some delicious raspberries bushes, tons of hens & chicks, and various flowering things. It's also the only spot I have to "weed", which doesn't happen all too often.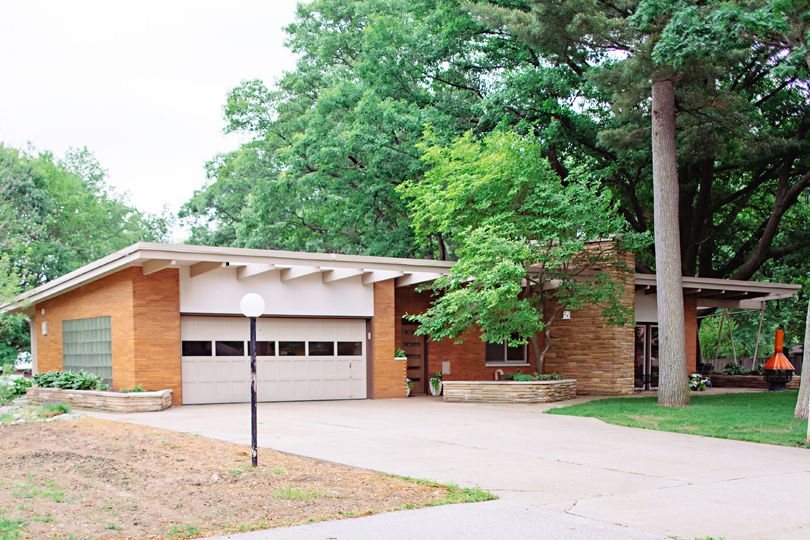 And here's the view from the street on north side. Again - grass needs some attention, and that yard light actually got a makeover since these photos have been taken. It's sanded and primed right now, and we're going to paint it dark brown to match the trim on the house. The globe is plastic (thinking the original was glass, and long broken since now), but I still love the simplicity of it, and assume it's original.

That's about it from the exterior at this point. Nothing on the docket for now, and while I would LOVE to add an in-ground pool at some point, it would require moving our septic system & drain field, which would be the biggest, most annoying pool project ever.