Thank goodness our home isn't gigantic (it's 1600 sq. ft.), otherwise I may have gone crazy trying to find just the right pieces of furniture! We looked at a couple of homes that were far too big for us, and the thought of having three living areas to furnish, stressed me out a bit too much. I am glad we ended up in this house!!

With our mid-century home, finding vintage pieces was part of the fun. Because we actually live here with our three-year old son, this house is a home; we are not interested in filling it with precious furniture we could not use and abuse without feeling guilty.

Here is our furniture broken down room-by-room.


DINING ROOM


Our dining room table & chairs (only five were available) was one of the first things we bought and put into storage. We purchased in May, and didn't buy this house until November - talk about jumping the gun a bit. Thank goodness it was perfectly sized to fit in the narrow spot.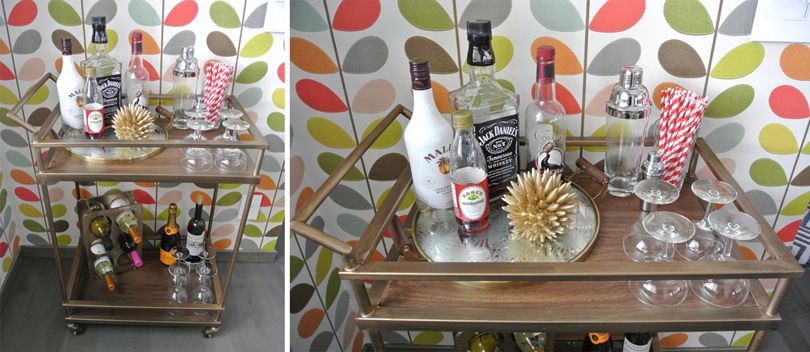 The bar cart is something we would have loved to buy vintage. Unfortunately, so did everyone else, and prices for this little carts have skyrocketed! We ended up finding this at Target, in their Threshold line for $91 on sale after Christmas. It looks cute enough, does it's job of corralling all the bar items, and fits on the wall perfectly.



KITCHEN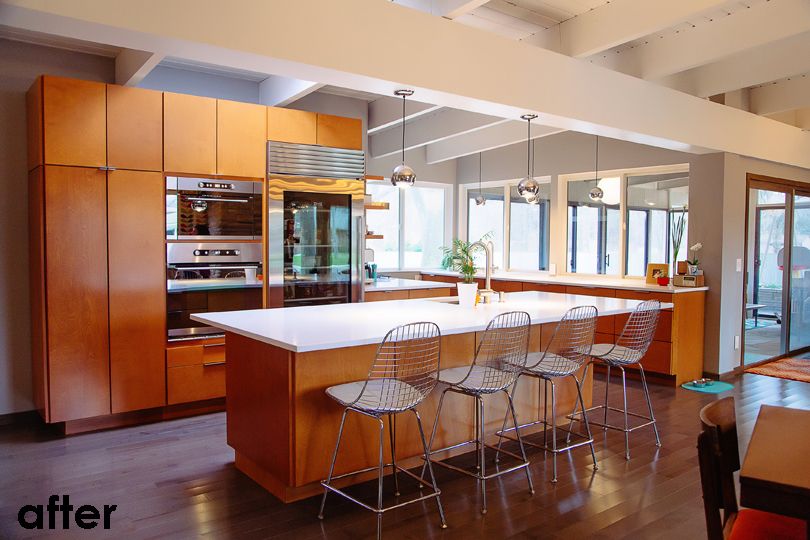 There is not much furniture in here except our bar stools. I honestly didn't spend too much time looking for vintage ones. I knew I liked the classic Knoll Bertoia Bar stool, however, at $1140 EACH, there was no way I was getting them. Instead, we ordered four from Modernica, for less than ONE of the Knoll classics. I don't regret this decision at all; we love them so much! Yes, yes, I KNOW they are not the same shape, but I'm okay with that!



LIVING ROOM


We looked a wee bit at finding a vintage sofa - but, worn out foam, faded fabric, and the thought of someones old sofa kinda grossed me out a bit. And reupholstering is not the cheapest option, plus, finding fabric you love enough for that investment is also challenging. This sofa fit the bill and is from Thrive Furniture out of Los Angeles. We LOVE it!

Those side chairs actually go in the sun porch, but when these photos were being taken, our side chair (below) was at the upholstery shop.

The side tables are both vintage finds - the round one being a favorite (and only $20 from a friend's grandma's garage sale!) And the bullet planter is vintage too.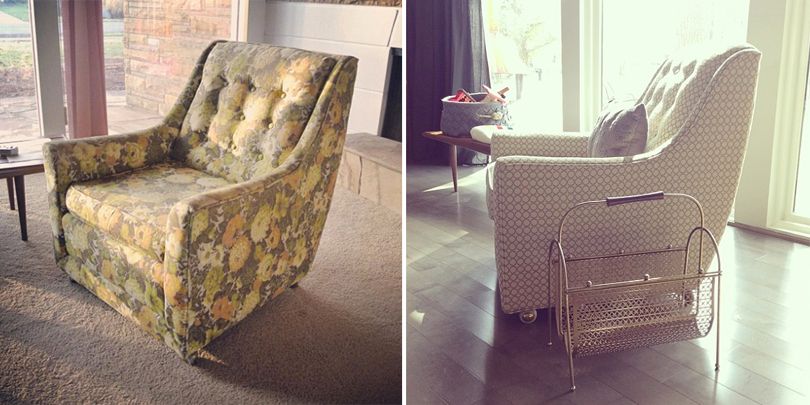 The Kroehler side chair we found on Craig's List for $100. I loved the lines of it, and knew it'd be a good compliment to the boxy sofa we decided on. Once I found the right fabric at the Herman Miller outlet store, I had it reupholstered by a local woman. The cost of this chair was less than $300 - certainly less than I'd pay for a new one.
The little magazine rack was a recent find at a local antique shop. It's perfect in here for all the catalogs we get - and for $20? I loved it enough to bring it home!
SUN PORCH
We hit the jackpot on this furniture. And it's kinda a random story, actually. The first purchase was a little love seat that was a project (the seats were naked - no fabric at all!) for $65. We picked up it, and put it in storage. The woman we bought it from emailed me a month of so later telling me she saw a coordinating sofa & two side chairs (two side chairs seen above in the living room photo), plus an ottoman on Craig's List. So, I emailed the woman with the set for sale, went to look at it and took it home that night. We got the entire set - which seats seven people comfortably - for $365. I just found the new fabric, and just dropped off the love seat cushions, so we can enjoy the set this summer, but also get things recovered slowly.
The new fabric is avocado green and matches the rug perfectly. I think it's going to be groovy out here. The white Eames chairs currently are at the dining room table. I kinda like them in there.
The side table is from Greg's parents' house, and the bench is an antique shop find.
GUEST ROOM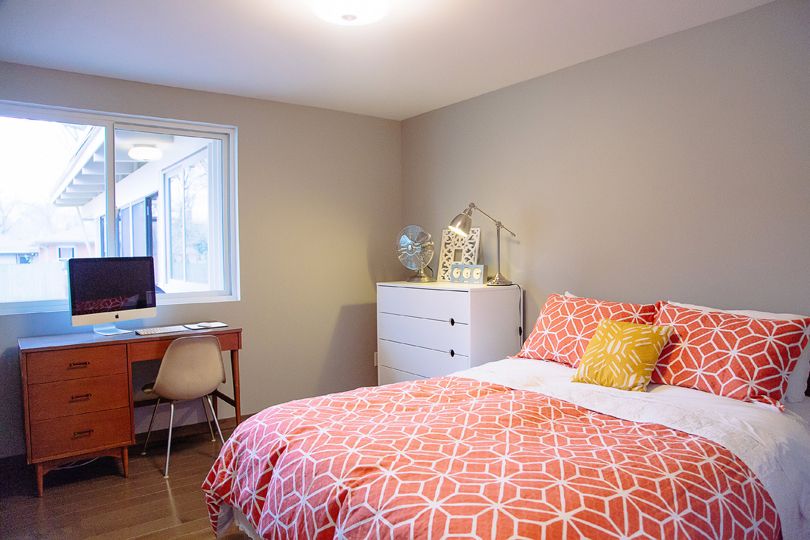 The guest room (possibly other kid room if we decide to have more children) also doubles as my home office. We picked up the headboard (which you cannot see here!) for $40 off of Craig's List, and it fits our queen sized mattress perfectly (since we upgraded to a king in our own room.) The desk was another local find, and the vintage Eames chair is part of my three-chair set.
The dresser was in Eames' nursery and matches his crib, so for now it's staying just in case we need it again in the future, but eventually, I'd love to get a vintage set - matching bed & dresser - for either more children, or guests...whatever comes first!
EAMES' ROOM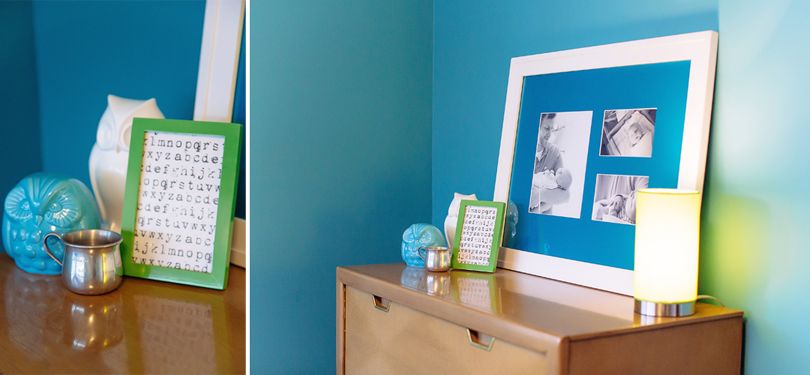 I don't have a good photo of his bed, but it matches the dresser, and this little bookcase. All of it is secondhand, and it's perfect for him. He's a boy who plays with a lot of toys and loves his books, so nothing is precious in here!
All of the decor items were in his nursery at our previous home, and fit in here just perfectly.
MASTER BEDROOM
The one thing I would have LOVED to buy vintage was a king-sized bed. Come to find out - most MCM sets are full-sized, and if you wanted a king, you pushed two twins together. Not really what we wanted to do.
We ended up ordering our bed new from West Elm's MCM line and LOVE how slim it is, plus how tall the headboard is. With me preferring duvets & various pillows, we needed a tall headboard so you'd see it (that is why you can't see the headboard in the guest room!)
We've since added a lot more linens and decor to this room -
see what it looks like today here
.
We have no room for side tables, and we've since added our small orange bookcase to the room to stash my magazine collection.
BASEMENT
There is a small bench in the entryway which we bought new from West Elm. We found a lot of vintage ones, but they were all too long for the space. The white sideboard at the bottom of the stairs was a Craig's List find, and fits our games perfectly.
All of our living room furniture from our previous home is in the basement. This will most likely change over time, but for now, it's all perfect down there - plus, we already owned it and it's super comfy.