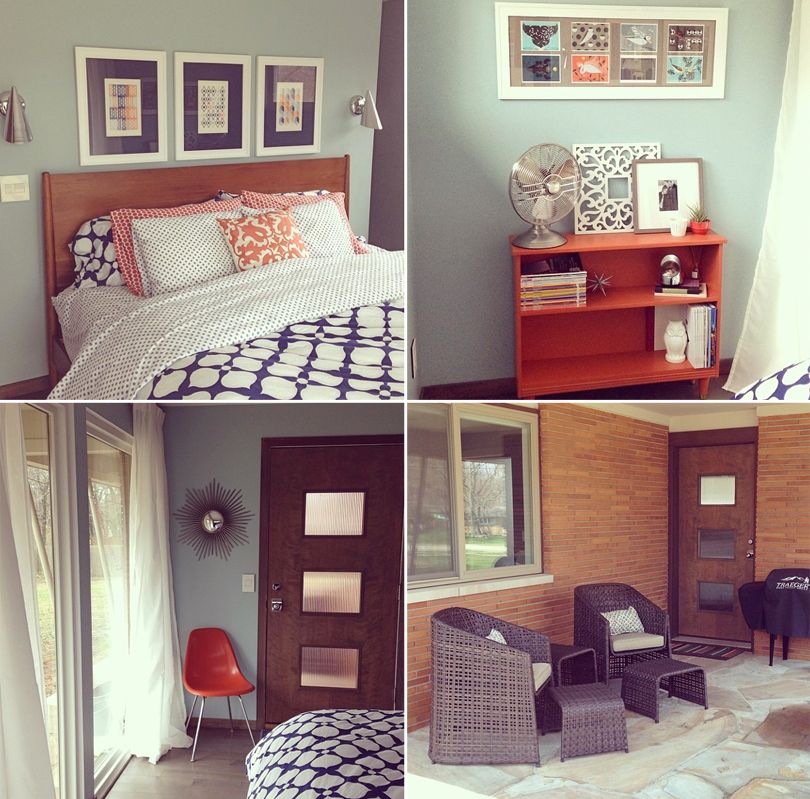 After eight months of living here, our master bedroom is done-zo! Here are some Instagram photos I snapped of the updated decor last week. You may remember the gorgeous professional photos that Kristen captured on the Master Bedroom Tour? It's changed a bit since then...

I have finally found the perfect selection of linens for our West Elm bed. We had the Jonathan Adler duvet & shams in December when Kristen took photos, but have since added The Land of Nod orange polka dot shams and the Ralph Lauren blue polka dot sheet set (picked up at TJ Maxx) to make a nice mix of patterns & colors on our bed. The throw pillow I picked up at Horrocks Market a while ago.

The Etsy art above the bed is from seller Thedor, and was framed in basic white frames and matted in navy blue at Hobby Lobby - where I get everything around here framed & matted.

We also moved the orange bookcase in here from the dining area (since we now have a bar cart) to hold my Dwell & Atomic Ranch magazine collection. This is still not styled 100% to my liking, but it's a work in progress - it takes me a while to collect items to display.

The Charley Harper postcard project was the last thing to be hung on the wall, and I LOVE IT! I took a frame that was sitting unused in the basement, and had eight postcards framed at Hobby Lobby. Perfect for this wall (behind it is a television hookup we aren't using right now)!

On my birthday, I came across an orange Eames chair at a local antique shop, and we randomly won a contest from Rejuvenation on the same day, so this mini starburst mirror is what I picked out as our prize. A pretty good birthday if you ask me :)

And outside that door in our bedroom? I patiently waited for this little patio set to go on clearance for months, and when it did, I ordered it from Target.com. The weather is still warming up in West Michigan, so I haven't sat out here much yet, but I'm thinking this spot will become a favorite very soon!